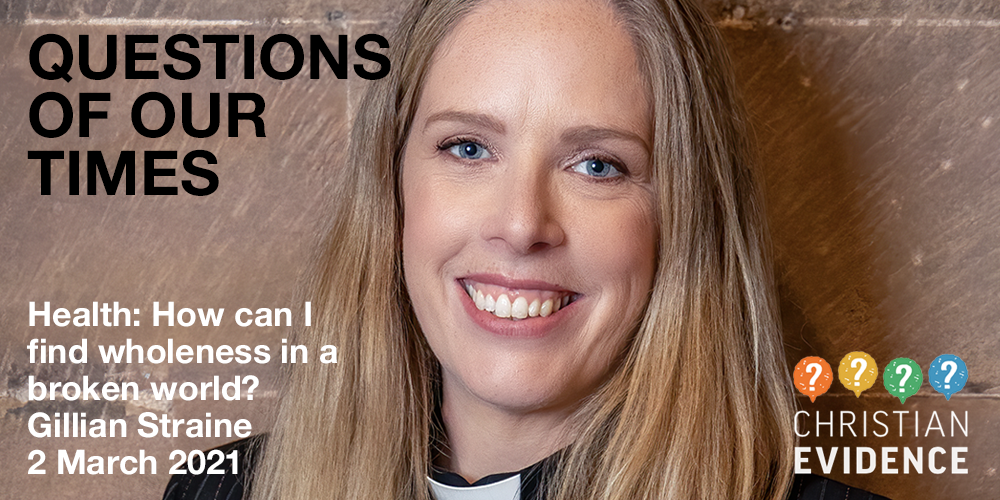 Gillian Straine discussed the question, 'Health: How can I find wholeness in a broken world?' in the second of our webinar series, Questions of our Times, on Tuesday 2 March.
We will be posting the video of this webinar here in March.
Gillian is passionately committed to health, healing and Christian living. She is a cancer survivor, Anglican priest, theologian and scientist with a strong interest in communication and teaching. She has a doctorate in Physics from Imperial College London and an MA in Theology from the University of Oxford. She is particularly keen to bring the study of science into conversations about Christian healing.
To learn more about Gillian's work to promote health and faith, visit Go Health.
Gillian also recommends the Healthy Healing Hub project, which supports churches to be places of healing as we emerge from the pandemic. Find out more about the academic study of healing, for theologians and healthcare professionals.
If you would like to read about Gillian's journey through cancer, read her book, Cancer: A Pilgrim Companion (SPCK, 2017).
Nigel Bovey
The host for Questions of our Times is Major Nigel Bovey, former editor of the Salvation Army magazine The War Cry, and the author of several books. His latest book, Browsing the Bible is a guide for anyone who wants to get started (or who wants to keep on reading) the Bible. Find our review of the book here: A guide to browsing the Bible.
Next webinars
Click the images below to register for the next webinars in our series: