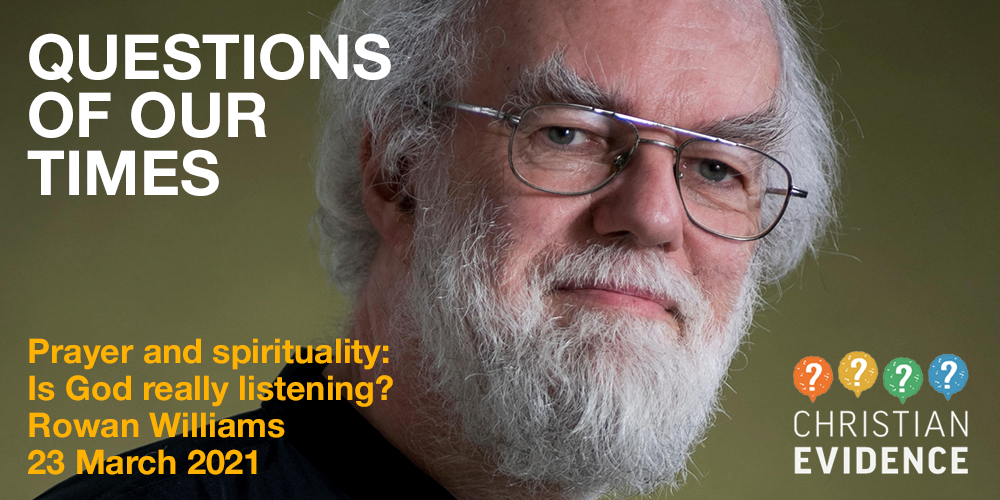 Rowan Williams discussed the question, 'Prayer and Spirituality: Is God really listening?' in the fifth and final of our webinar series, Questions of our Times, on Tuesday 23 March.
We will be posting the video of this webinar here later in March.
Rowan Williams, Lord Williams of Oystermouth, is an Anglican Church leader, theologian, author and poet. He was the 104th Archbishop of Canterbury (2002-12), and on standing down as Archbishop served as Master of Magdalene College, Cambridge (2013-20). He worked as a crossbench peer in the House of Lords until he retired in 2020.
He is the author of a recently-published reflection on the Covid crisis, Candles in the Dark: Faith, Hope and Love in a Time of Pandemic (SPCK, 2020). His other recent books include God With Us: The Meaning Of The Cross And Resurrection Then And Now (SPCK, 2017), and Being Disciples: Essentials of the Christian Life (SPCK, 2016).
He is currently working with a Cambridge based research group, the International Society for Science & Religion, on Spiritual Intelligence. The group includes scientists, psychologists, philosophers and theologians. Read more about the project here: Understanding Spiritual Intelligence.
To find out more about Rowan Williams, see his pages on the Archbishop of Canterbury and Magdalene College websites, and on Wikipedia.
Nigel Bovey
The host for Questions of our Times is Major Nigel Bovey, former editor of the Salvation Army magazine The War Cry, and the author of several books. His latest book, Browsing the Bible is a guide for anyone who wants to get started (or who wants to keep on reading) the Bible. Find our review of the book here: A guide to browsing the Bible.