1400 year old Christian graffiti found at Hadrian's Wall
The oldest known example of Christian graffiti in Britain has been discovered in the ruins of a 5th or 6th century church near Hadrian's Wall. The graffiti was incised into the bowl of a lead chalice, which was found in 14 fragments buried under the collapsed stonework of the church. The graffiti covers the surface of the chalice, inside and out.
This rare discovery was made in the Roman fort of Vindolanda, a key military garrison on the Roman road running east-west from the River Tyne to the Solway Firth. Vindolanda was occupied by Roman troops until the late 4th century, and a previous archaeological excavation on the site uncovered an inscription carved by soldiers from Gaul dedicating a statue of the goddess Gallia.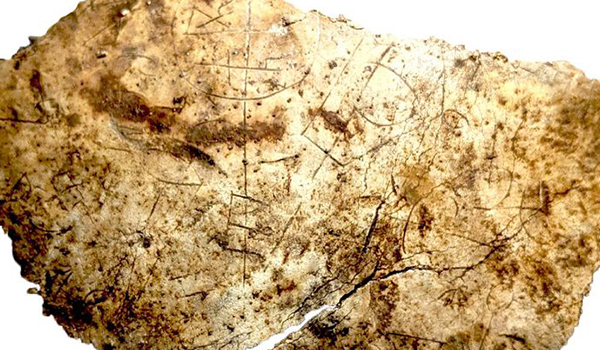 The discovery of the chalice helps tell the story of how the Christian faith took root in Britain in the period after the collapse of Roman rule. Dr Andrew Birley, director of the Vindolanda excavations, told the Guardian that 'the discovery helps us appreciate how the site and its community survived beyond the fall of Rome and yet remained connected to a spiritual successor in the form of Christianity.'
Describing the graffiti, he said, 'You've got crosses, a whale, fish, ships with lovely rigging and little flags, little angels, a priestly figure seemingly holding a crook with a big smiley face, ears of wheat.'
The Vindolanda Charitable Trust, which excavates and preserves the Roman site, comments on its website: 'The combination of so many of these etchings and the context of the discovery makes this artefact one of the most important of its type to come from early Christianity in Western Europe. It is the only surviving partial chalice from this period in Britain and the first such artefact to come from a fort on Hadrian's Wall.'
The value of discovering this ancient Christian artefact is that it helps reveal the stories and symbols which were important to Christian believers at the time. It also definitively identifies the ruined building as a Christian church, and may aid in the religious identification of other archaeological sites.
Images: hillcroftdave (CC BY-NC-SA 2.0) and Vindolanda Charitable Trust