A guide to browsing the Bible
A new book about the Bible – which has often been called 'the world's least-read bestselling book' – promises to help new readers find their way around the Bible and make their own discoveries in it.
Browsing the Bible, by Nigel Bovey, does this by giving a crisp, two-page overview of each of the Bible's 66 books, distilling the story and message of each book in a straightforward and approachable way. It also includes short, seven-day reading plans, together with reflections and prayers.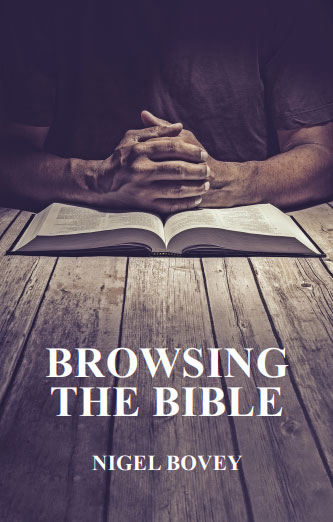 The book was written out of a lifetime of Nigel's reading and re-reading in the Good Book, as well as teaching others about it – he is the former editor of the Salvation Army magazine The War Cry. But he says he had his own struggles in getting started with the Bible when he was growing up. 'For years, a solitary black-leather Bible sat on my bedroom bookshelf,' he says. 'Many first-time readers give up after the first few chapters of Genesis. I know. I did.'
That is why his aim in writing Browsing the Bible was to provide a guide for anyone who wants to get started, or who wants to keep on reading. It's especially a book for people who are unfamiliar with the Bible, or who are reluctant to read it because of the way it has been misquoted or misused.
Says Nigel: 'Like any published work, the Bible is open to misunderstanding and misinterpretation. It is essentially a message of love, but it has often been used to stir up hate. So it's not surprising that this puts some people off reading what it actually says.'
Many first-time readers of the Bible think they have to start at page 1, in the book of Genesis, and read through to the end, with the book of Revelation. But in fact there are many ways to read the Bible, and reading non-stop from beginning to end might not be the best way to do it.
Nigel's advice is to start by reading one of the four Gospels – Matthew, Mark, Luke or John – which tell the story and open up the teaching of Jesus.
'The heart of the Bible is a person – Jesus,' he says. 'Having a relationship with Jesus is what it means to be a Christian. So I recommend reading one of the four Gospels, which each give a different angle on the life of Jesus. Mark is an exciting, fast-moving account of what Jesus did. Matthew gives a great insight into what Jesus said. Luke gives a moving account of how Jesus related to people, especially people in need. And John explains the depths of who Jesus truly is.'
Buy your copy of Browsing the Bible
Image: Josh Applegate